The Winfrey Family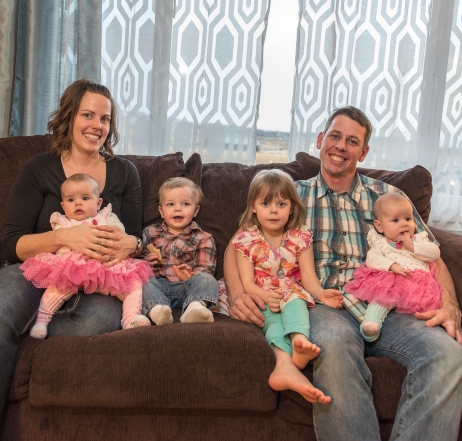 About a year after opening the Shane G. Lalani Family Birth Center at Livingston HealthCare (LHC), doctors, staff and—most importantly—parents Ross and Megan Winfrey welcomed the medical center's first set of twins.
Libby and Vanessa Winfrey arrived the evening of October 28, 2016 and represent the fourth generation of Winfrey's born at LHC. The twin girls joined their brother Cooper (2) and big sister Lydia (4), who were born at Livingston HealthCare's previous location.
Megan said having her babies at LHC was important to her because she knew from experience her family was going to be well cared for by the LHC team. The Winfrey's relationships were the deciding factor that bolstered Megan's confidence when her third and most challenging pregnancy came to pass. "We have delivered all four of our children at LHC. We love the way the doctors listen, the familiarity of the OB nurses and how much they love their patients and babies," said Megan.
A Team of Experts in One Location
About five months into her care at LHC's prenatal clinic—just downstairs from the Family Birth Center— the Winfrey's discovered Megan was carrying twins. This revelation prompted her primary care physician, LHC Medical Director Scott Coleman, MD to call in his colleague, Denise Helin, MD, OB/GYN for added expertise.
After reviewing Megan's pregnancy and health history with the high-risk obstetrics specialty providers at LHC affiliate Billings Clinic, Dr. Helin reassured the Winfreys that they could safely continue their special pregnancy close to home in Livingston. She recommended the pregnancy be limited to 38 weeks for the health and safety of mother and babies, and regularly shared the progress of Megan's pregnancy with other members of the birth center team. Megan toured the LHC birth center and adjacent operating room, just upstairs from the clinic where she had her regular appointments.
PERSONALIZED CARE
After her pregnancy progressed without complication, Megan and Ross strongly believed it was best to carry the babies to full term (40 weeks). Having close relationships with their medical providers allowed the family to create a plan with the care team that ensured a safe delivery and honored their wishes to await natural labor. As it turns out, Dr. Kyra Piñango—the newest family medicine/OB physician on LHC's staff—was on call to deliver the first twin, Libby.
Thanks to good communication and planning, the team was prepared for high risk interventions. The fourth Winfrey child, Vanessa, was delivered by Dr. Helin in the operating room during an emergency Cesarean section. "When the labor started to cause distress for Vanessa, Dr. Helin saved us," says Megan. "She is an amazing surgeon."
Megan adds that she's "the type of mom who would have babies at home if I could—I'm totally about the natural." But the delivery at LHC was "the next best thing. I wanted that team there if I needed it. And they were. Even with the complications, it was perfect."