The Ungaretti Family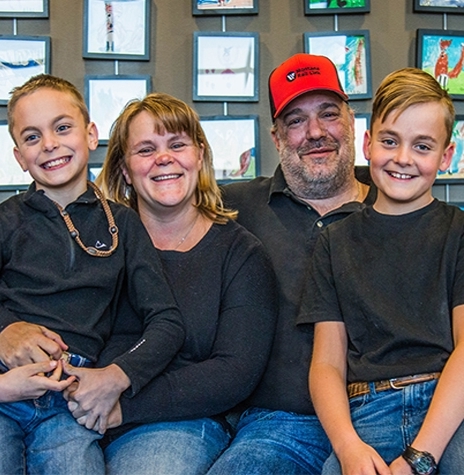 At first glance, the Ungaretti family looks about the same as any other Livingston family.
Mike and his wife, Abby, live and work in Livingston. They have two nine-year-old sons—twins Garrison and Hayden. Garrison loves to play Minecraft on his Kindle, while Hayden spends most of his free time reading books like Harry Potter or The Hunger Games.
The twins have seen providers at Livingston HealthCare since they were born. When Dr. Heather DiCross joined the LHC team as a pediatrician in 2014, Garrison and Hayden began seeing her regularly. At the time, the twins were close to turning four. It was also around this time that Abby and Mike started noticing something different with their son, Garrison.
He would start staring off into the distance—unable to recognize anyone around him, or to know where he was. These episodes developed into seizures that Garrison would have every so often. The condition continued as he got older.
By 2017, Abby says that Garrison was admitted to the hospital after visiting LHC's emergency room about fifteen times.
"One night, he was having an episode and I asked him what was wrong," Mike says. "He said there were zombies after him. He had no idea what he was saying—it was all part of it."
Now, six years after first noticing Garrison's symptoms, he is leading a life typical of a nine-year-old boy. This is something that Abby and Mike contribute largely to how Dr. DiCross helped their family.
DiCross frequently spent nights alongside Garrison when he entered the LHC emergency room with an episode, even on days where she wasn't working or even on call.
"Dr. DiCross sat and held his [Garrison's] hand and looked in his eyes and made us really feel like he was important to her, not just another kid," Abby says. "That was that key moment for me that was like, 'she really cares. She really wants to know how he feels.' "
DiCross spent countless hours observing Garrison and trying to learn exactly what was happening. She understood that what he was going through was beyond something she could treat, and wanted to ensure that he got the proper treatment as soon as possible.
Dr. DiCross reached out to find the right specialist in order to hopefully figure out what was happening with Garrison. She found specialists in Nashville and Denver and connected the Ungaretti family with them.
Garrison and his family visited the medical center in Denver for the first time in November 2017, where it was eventually established that Garrison suffered from psychogenic nonepileptic seizures (PNES).
PNES are similar to epileptic seizures in many ways, but are of a psychological origin, whereas epileptic seizures are of a neurological nature.
After a follow up in January 2018, Garrison says he's feeling all better. Dr. DiCross continues to see Garrison and Hayden regularly. Both twins say they love how kind she is when they see her. It's clear she's left a lasting impact on the Ungaretti family, not only with her care, but also with her ability to go above and beyond for her patients.
"Without Dr. DiCross, we would still be where we were at—coming into the ER once or twice a week," Mike says.