Occupational Therapy
Getting ready for your fist appointment? Download our medical intake form here.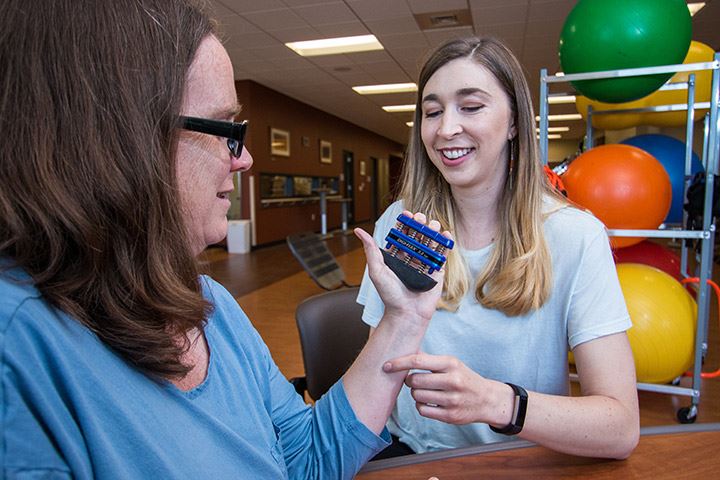 At Livingston HealthCare, we offer rehabilitation services to help you restore or improve your quality of life, whether you are recovering from an injury or illness or coping with a chronic condition. Our experienced team of occupational therapists will create personal goals and a customized treatment program for you. Whether you are still in the hospital or already an outpatient, we offer care designed to get you back to what you love doing.
The goal of occupational therapy is to enable an individual to carry out their activities of daily living—including those performed at work, home, school and the community—as independently as possible. Our friendly and caring staff offer personalized, evidence-based, one-on-one occupational therapy sessions for patients with physical or neurological impairments, functional limitations and disabilities resulting from injury, disease or other causes. Our therapists use a team approach by working closely with you and your primary care provider to restore optimal function. With a state-of-the-art rehab center and experienced staff, we're committed to providing you with the most progressive treatment in a highly professional manner.
Conditions we treat include:
Hand, wrist, elbow and shoulder musculoskeletal and orthopedic conditions
Neurological conditions including stroke, Parkinson's disease and multiple sclerosis
Lymphedema
Pediatric conditions including autism, ADHD developmental delays, genetic disorders and feeding, fine motor and handwriting difficulties
Visual processing for pediatrics and adults
Work-related injuries
Arthritis
Cumulative trauma
Deconditioned individuals or those with difficulties with life management
Techniques we use include:
Activities of daily living training
Adaptive equipment education
Fine motor and gross motor training
Sensory processing therapy
Neurodevelopmental treatment
S.O.S. feeding approach
Home safety assessments
Fall prevention
Splinting
Ergonomic and joing protection training
Work conditioning and hardening
Pre-employment strength and flexibility testing
Pain management
Meet our occupational therapists here.
For additional information for children, please click here to view our Pediatric Rehabilitation page.
Livingston HealthCare occupational therapy services are available by appointment Monday through Friday 7AM-5PM.
To cancel or reschedule, please call our scheduling staff 24 hours in advance of your appointment at 406.222.7231. If you are having difficulties with your current appointment schedule, please reach out to our scheduling staff.
For more information about any of Livingston HealthCare's occupational therapy services, talk with your physician or call 406.222.7231.