Back In The Game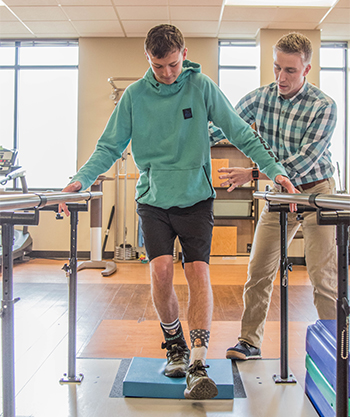 Sports keep Aidan Jenkins busy. The 15-year-old from Clyde Park plays point guard for the Shields Valley High School basketball team. In track, he runs on both relay teams, and competes in the long jump and triple jump. Additionally, he holds a variety of positions on the football team—including quarterback and safety.
As a busy athlete, Aidan can't afford to have injuries holding him up. That's why when he started having ankle issues, his first stop was Livingston HealthCare (LHC) Physical Therapy by way of LHC's Athlete Wellness Program. This program offers two free visits with a physical therapist to assess injuries received during a school sports practice or game. Thanks to the program, Aidan was able to figure out just how serious his ankle injury was.
Aidan's two free visits were with LHC physical therapist Mike Garre. Aidan explained to Mike that he kept rolling his ankle during sports, no matter how well it was taped.
After some careful analysis, Mike was able to understand what was happening with Aidan's ankle. "I told him it was extremely unstable," Mike says. "He might be able to function with this if he wasn't such an active, high-level athlete, but . . . Aidan was going to have a problem."
The extent to which the ligaments and tendons in Aidan's ankle were torn and stretched required surgery. Some six weeks later, Aidan was back with Mike, working to return his ankle to full strength.
Aidan says that his experience working with Mike at Livingston HealthCare's state-of-the-art physical therapy center was well worth the drive over from Clyde Park. "Going to Mike was the best thing that could have happened to me after my injury," he adds.
Aidan is now back in action: the Shields Valley football team competed in the first round of the State Class C football playoffs on November 2. Fittingly, Mike was in Clyde Park to watch Aidan and the Shields Valley Rebels defeat Geraldine/Highwood, 59-38.
"I was so excited to see him finish up his rehabilitation. You get to see someone change, not just physically, but emotionally, too," Mike says. "Giving him the confidence when he was down and out, then to go watch him play football with his team—it's just really gratifying."