Jess P.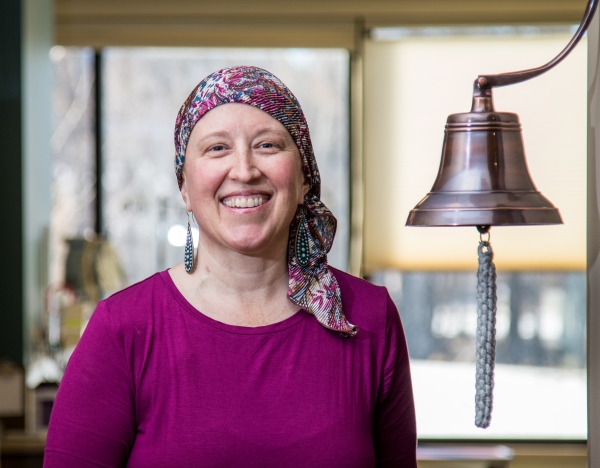 January 12, 2018 marked 43-year-old Livingston resident Jess Pielaet Warren's final treatment in an intense three-month battle with a pregnancy-related cancer that had spread from her uterus to her lungs and brain. She underwent weeks of inpatient chemotherapy and radiation treatment—spending long weekends in Billings, often away from her husband and their 4-year-old daughter, Piper.
As she neared the end of her treatment, Jess wanted a way to properly usher in her new phase of recovery. She was inspired by a scene she witnessed during her time at Billings Clinic. Jess tears up as she recalls watching a huge, joyous family gathered around a woman for a ceremony to celebrate her final chemotherapy treatment. Hanging on the wall was a brass nautical bell. The woman rang the bell three times to signify the restoration of balance, harmony, and life energy. The chiming of a nautical bell at the completion of cancer treatment is a widespread tradition in hospitals around the country, started by late U.S. Navy Rear Admiral and Navy Seal Irve Le Moyne in 1996. Le Moyne brought a brass bell with him on his last day of treatment for neck cancer at MD Anderson Cancer Center in Houston, Texas. In the Navy, Le Moyne told his doctor, sailors ring a bell to mark when a job is done. He recited a poem before ringing the bell, a declaration of the completion of a fierce battle.
Later on in her treatment, Jess shifted to outpatient chemotherapy back home at Livingston HealthCare (LHC). She immediately noticed there was no bell in LHC's infusion area. "Well, that just won't do," Jess recalls saying. "I really want to ring that bell!" She reached out to Livingston HealthCare's Connie Olsen, a medical social worker, who helped initiate the process of getting one installed. The bell was donated by the Warren family to LHC through the Livingston HealthCare Foundation.
"I just wanted it [the bell] for people to have that significant moment, when they've worked so hard," says Jess. "That's really why I wanted it, because I think it's such a symbol of hope and a beacon of light for so many people. It's not just for the patients—it's for the nurses, it's for the doctors and it's for the families that go through all of it [cancer treatment process]."
Fittingly, Jess would be the first patient to sound Livingston HealthCare's newly-installed bell, ringing in a new phase of healing. On the snowy morning of January 12—after her chest port was flushed clean one final time—she gathered herself as her husband, sister, mother and nurses stood in a semi-circle around her, not a dry eye among them.
Jess read aloud the same poem as Rear Admiral Le Moyne did in 1996, her voice quavering, but resolute:
"Ring this bell
Three times well
Its toll to clearly say,
My treatment's done
This course is run
And I am on my way!"
She reached up and sounded the bell as her family and Livingston HealthCare nurses broke into applause.

"All right," said Jess through a spreading, tearful smile. "It's done."
Watch the emotional moment Jess rings the bell after her final chemotherapy treatment here.