Shamie Hanson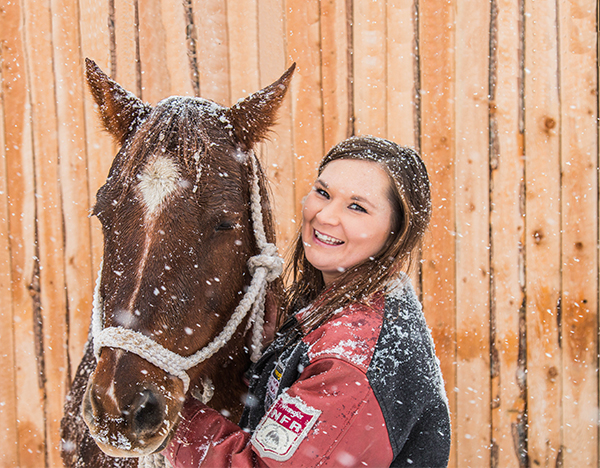 Shawmarie Hanson—or Shamie for short—says that it's going fast that drives her passion for barrel racing.
The 26-year-old Choteau, Montana native has been competitively barrel racing for eight years. Her relationship with horses dates back to before she was born, when Shamie's mother bought a horse for her unborn child. Growing up, she spent countless hours riding through pastures, enjoying time spent with her equine friends.
Shamie has competed in barrel racing events, mostly jackpots, all around Montana and beyond. She fondly recalls a day in 2016 when she won $2,000 at a rodeo in Silesia, Montana.
"It [barrel racing] kind of feels like why I live," Shamie says. "It's a big factor, like everything revolves around it for me."
Barrel racing is a sport that can take a physical toll on both the horses and the riders, as Shamie knows firsthand. In April 2018, she started to feel some discomfort in her left hip. Over time, it got worse—eventually reaching the point where she couldn't walk or sit without pain, much less ride a horse.
Shamie was diagnosed with a hip impingement: she had ten millimeters of extra bone on her femur that was pinching the labrum in her left hip. After going over options with her doctor, Shamie decided to have the hip impingement surgically repaired at Livingston HealthCare.
Dr. Michael Ferrell, MD, a Bridger Orthopedic physician, performed the operation at Livingston HealthCare in mid-October 2018.
The next step in Shamie's recovery was physical therapy. Since her operation, she has been seeing LHC physical therapist Miles Schneeman, DPT, twice per week. She says it wasn't long before she felt monumental changes in the way her hip felt, largely thanks to the care she received from Miles.
As for Miles, he enjoys the opportunity to work with patients who live active lifestyles—including athletes like Shamie. A competitive swimmer growing up, he enjoys putting the power in the hands of the patient and using exercise as medicine.
"As someone who is personally so active, it's really rewarding to be able to help people get back to their sport—whatever it is," Miles says. "If I can get someone else back to that [their sport], and they can have that outlet, there's nothing better."
Each time Shamie sees Miles in LHC's state-of-the-art physical therapy gym, she goes through a routine of exercises. Her rehabilitation process is something she takes extremely seriously, and she says she isn't the only one.
"I make sure to always do my exercises at home, because it's important to me to get back to barrel racing as soon as I can," Shamie says. "It's nice to know that Miles and the people here [at LHC] make it a priority, too."
Just a few weeks post-surgery, Shamie has progressed from walking with crutches to walking unaided comfortably for the first time in months.
Before she knows it, she'll be back on one of her horses, be it Scarlet, Hillary or Josey—and she can't wait. She says she's extremely grateful to Miles and the LHC team for helping her get back to doing what she loves most.
"You can tell they [LHC staff] do really care about the patients and that it's more than a job to them," Shamie says. "I can't thank them enough."