Lee F.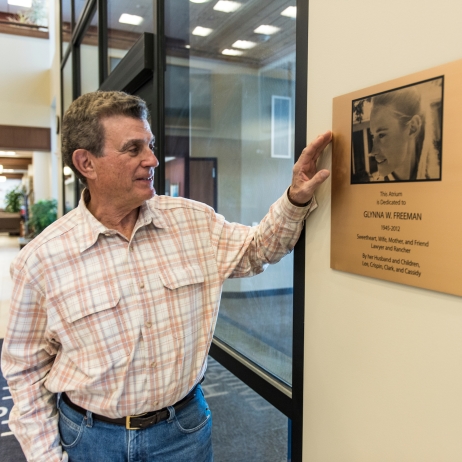 In October of 2015, when LHC patients and other Park County residents entered the new Livingston HealthCare medical center, their reactions were priceless: amazement, disbelief, wonder. Their first impressions of the new facility came by way of the spectacular Glynna W. Freeman Atrium. The beautiful Montana stone columns and tile floors, stunning grand staircase, and lovely Chatham paintings are compliments of the generosity of the Lee Freeman family.
Glynna Freeman was raised in the oil fields of Oklahoma, Texas, and Wyoming, as her father was a petroleum engineer. She received a scholarship to attend Smith College in Massachusetts, where she met her future husband, Lee. Once married, she attended law school, became a highly-respected Chicago attorney, and practiced law alongside her husband. The couple purchased a home in Montana in 1979 in order to start ranching in addition to their legal work. "She practiced law, but she always had a desire to be a cattle rancher," Lee Freeman says. "We spent most of our time practicing law, working on the ranch, and following our children in their various theatrical endeavors."
The Freemans' three children, Crispin, Clark, and Cassidy, caught the acting bug and are enjoying successful careers in Hollywood. Crispin Freeman is a prominent voice actor featured in many hit video games while Clark and Cassidy Freeman have performed on television and in major motion pictures.
Glynna was a highly regarded and dynamic community member, serving on numerous boards including Community Health Partners, Livingston HealthCare, and the Livingston Depot Center. Daughter Cassidy Freeman recalls Glynna's affinity for the Park County community. "My mother grew up in smaller communities where you knew your neighbor. She loved Livingston for its small and close community. To her, everyone was family."
With Glynna's passing in 2012, it was important for her family to continue her legacy through philanthropy by contributing to the New Hospital Campaign in ways that commemorated Glynna's personality and convictions.
"She also loved being able to see how efforts to better a community actually made life for people she personally knew a little easier," Cassidy says. "My mother believed so strongly that every person deserves to be taken care of. One of the biggest struggles of this country is our ability to make each other feel taken care of. Healthcare, or a lack thereof, plays a big part in this. I think every community, no matter how small or remote, deserves the same kind of medical attention and technology as a big city."
The Freemans are proud to support Livingston HealthCare and are amazed by the new medical center. "It's warm and inviting," says Lee Freeman. "The equipment and building is very impressive. It has made a terrific impact on the community, as it's a better hospital than you can find in a long radius. I hear nothing but good things about the ability to get care here without traveling."
As more and more patients and visitors enter the Glynna W. Freeman Atrium, her legacy touches each individual. "I like to think," says Cassidy, "that her spirit is there smiling and hoping all the patients that pass through feel taken care of and safe."