Livingston HealthCare Adds 3-D Mammography Machine
Livingston HealthCare (LHC) has invested in new cancer-screening technology called digital breast tomosynthesis, or 3-D mammography. The new machine—in use at LHC as of December 12—improves invasive breast cancer detection rates by about 40 percent, according to studies published in the medical journal Radiology.
"It's going to have such a positive impact for our community," Livingston HealthCare mammographer Renee Shifley says of the new equipment.
The technology's increased diagnostic accuracy is owed to the three-dimensional picture it creates of the breast using X-Rays. The X-Ray tube moves in an arch around the breast, generating a series of images from multiple angles. Despite the increased imaging capacity, the entire scan lasts only 4-7 seconds and offers less radiation exposure than traditional, 2-D mammography.
Livingston HealthCare's mammography team performs about 40-50 screenings a week. Radiologic technologist and mammographer Sara Pinson says the 3-D mammography experience feels about the same as a traditional mammography for patients.
"It should enhance our abilities to pick up positives, especially for women with dense breast tissue," says Kathy Blair, LHC's Ancillary Services Director.
The Livingston HealthCare Foundation offers a program to help uninsured and underinsured women under age 64 receive the more expensive 3-D screening. (The American Cancer Society recommends women begin annual breast cancer screenings at age 45.)
"To help remove barriers that may keep some women from coming in for a screening, the Foundation will continue to raise funds to provide stipends to help cover the cost of this lifesaving medical assessment procedure for eligible women in need," says Livingston HealthCare Foundation chair, Ruth Weissman. "We are very grateful to the many donors who have generously contributed to our breast cancer program. Their gifts have made it possible for Livingston HealthCare to invest in 3-D mammography."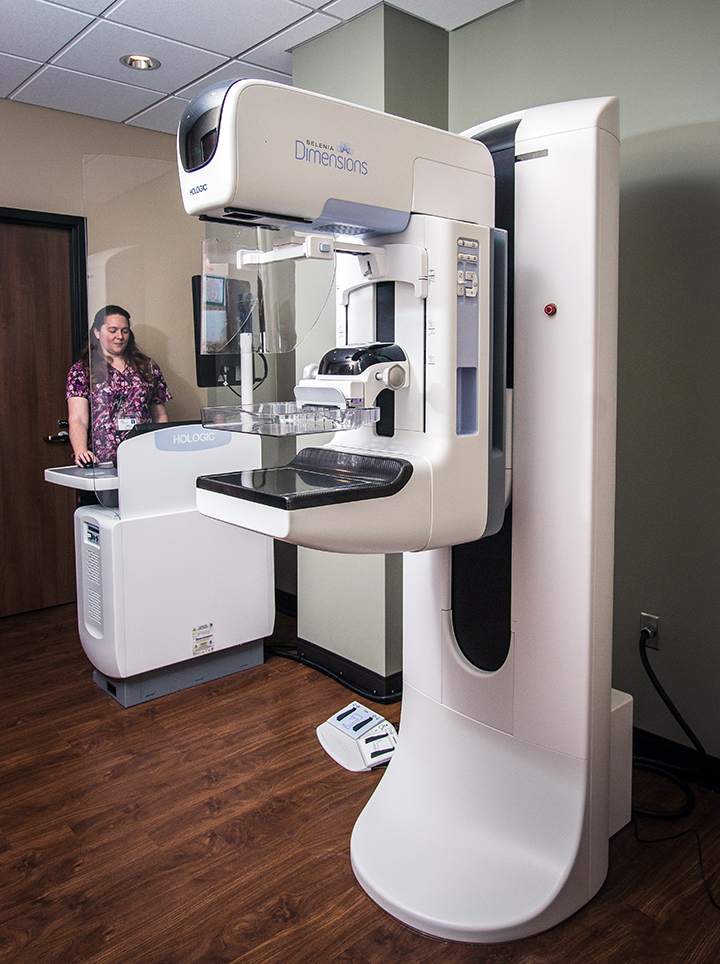 Photo caption: Radiologic technologist and mammographer Sara Pinson demonstrates Livingston HealthCare's new digital breast tomosynthesis machine—which produces 3-D mammograms—during a training session on December 5. The 3-D screening option is available at LHC as of December 12. 3-D mammography improves invasive breast cancer detection rates by about 40 percent.