Event Details
Open Meditation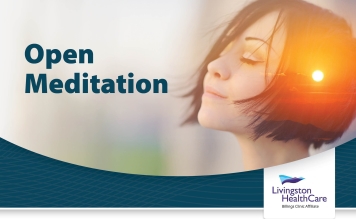 About This Event
Details:
Join us for open meditation hosted by Livingston HealthCare's Hospice Chaplain and Spiritual Care Coordinator Amy Turner, MA, ThM.
Open Meditation is available every Wednesday from 9-10AM in the Livingston HealthCare Meditation Room. Take time to reflect and calm your mind in an ambient setting.
Participants are asked to bring their own meditation pillows or cushions.
Please be courteous of others in attendance by entering and leaving quietly.
You are welcome to stay the full duration of time, but can join and leave at any time.
Prayer is available upon request.
Please note: This is not a guided meditation, however instructional handouts are available.
For more information, please call 406.823.6430.
Registration
Registration Instructions:

Registration Type:

No Registration Required