Event Details
Livingston HealthCare Fall Health Festival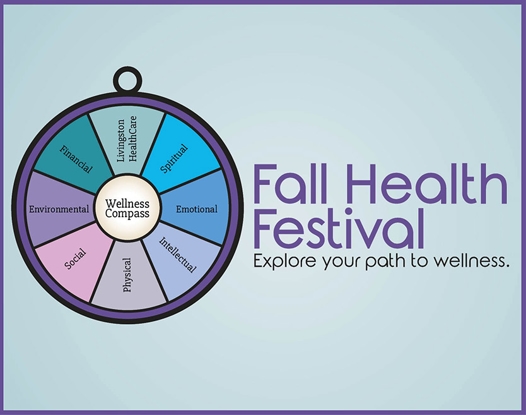 About This Event
Details:
We cordially invite you to attend the 2019 Fall Health Festival. This is the 15th anniversary of an event that promotes a path to wellness through a day of education, health screenings and community fun. We would be honored to have you join us in this commitment to a healthy community.

We have switched things up a bit this year by incorporating Livingston HealthCare's wellness compass. The wellness compass is a guide for personal health and wellbeing. Each sector of the compass will be represented at the Fall Health Festival by local organizations or businesses.
Blood Profile Screens:
Checks for diabetes, measures thyroid, kidney and liver function and tests cholesterol ($50). Consume nothing but water after 8 PM the night before. Optional tests: Vitamin D ($25), Prostate Specific Antigen ($15), and Hemoglobin A1C ($20). *Payable by cash, check or credit card only.
Flu Vaccine $35
*Payable by cash, check or credit card only, except Traditional Medicare Plan holders.
Free Breakfast:
Savor a free hot and healthy breakfast from 7 to 11 AM.
Exhibitors and Activities:
Festival will feature dozens of informational booths, health screens and interactive activities.
Saturday, November 2, 2019 | 7-11 AM | @ Livingston HealthCare
Contact Information:
Lindsey Pennell Marketing and Communications Coordinator 406.823.6640
Registration
Registration Instructions:

Room:

Registration Type:

No Registration Required