Event Details
Fall Health Festival: Explore your path to wellness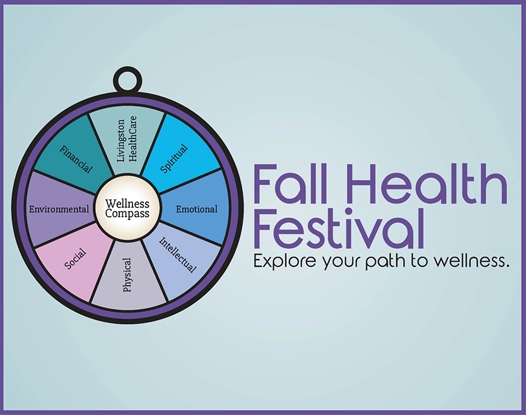 About This Event
Details:
This year we have a new and interactive Fall Health Festival format!
Explore your path to wellness by attending one or several educational and inspiring sessions with our supportive team of providers, nurses and caregivers—plus enjoy a free Café Fresh breakfast along with your favorite health screenings.
All sessions are free with amazing giveaways, raffle prizes and information. Bring the whole family for a fun day of healthy and educational activites!
7AM–12PM:
Blood Profile Screens: Checks for diabetes, measures thyroid, kidney and liver function, and tests cholesterol ($50). Optional tests:Vitamin D ($25), Prostate Specific Antigen ($15), and Hemoglobin A1C ($20). *Payable by cash or check only.
Flu Vaccine: Flu Shot ($36). High-dose flu shots ($76).*Payable by cash or check only, except Traditional Medicare Plan holders.
7:00–7:40AM:
Center yourself with gentle yoga, led by Rosie Yoga's Becca Moore
7:45–8:25AM:
Quiet your mind with meditation, led by Licensed Clinical Psychologist Chris Spromberg
*Click here to enter the Guided Meditation virtual session
Strong People, Strong Bones
Strengthen your body with gentle exercises, led by Strong People, Strong Bones instructor Jessie Wilcox, MS, RD, LN
8:30–9:10AM:
Learn life-saving skills with Hands-Only CPR
Bike Safety Course and Helmet Fittings
Bring your child to learn bike etiquette and safety with our indoor riding course and get a FREE helmet (bikes will be on-site for the course)
Learn tips and tricks to keep your bones and body in motion, led by Bridger Orthopedics' Dr. Abbey Kennedy and Russ Saari
*Click here to enter the Orthopedics virtual session
9:15–9:55AM:
Take care of your health today to be there for your loved ones tomorrow with up-to-date information on pap smears, mammography, annual visits and more
*Click here to enter virtual session
Create a connection between your child, pediatrician Heather DiCross and Certified Pediatric Nurse Practitioner Paula Coleman who will share their favorite stories aloud
Quick and Healthy Cooking Demo
Watch and learn how to cook a quick, healthy, diabetes-friendly dish and get ideas for weekly meal-planning
10:00–10:40AM:
Explore your mental wellbeing with tips and ideas to keep your mind healthy
* Click here to enter the Behavioral Health virtual session
Ask anything to our panel of providers in an informal atmosphere
*Click here to enter the Doc Talk virtual session
Check Your (Exercise) Form
Receive hands-on help to check your form, then put it to the test with progressive sets of exercises led by our Physical Therapy team
10:45–11:25AM:
Quiet your mind with meditation led by Licensed Clinical Psychologist Chris Spromberg
*Click here to enter the Guided Meditation virtual session
Family Medicine—Healthcare for All*
You're not college age anymore, and you aren't retired...yet. Get tips and tricks from the experts on how to stay healthy in this fast-paced life, no matter your age
*Click here to enter the Family Medicine virtual session
Be ready for any outdoor adventure with tips and tricks for tick removal, embedded fish-hook removal, backcountry trauma and more
*Click here to enter Adventure Preparedness virtual session
11:30AM–12PM:
Learn life-saving skills with Hands-Only CPR
Bike Safety Course and Helmet Fittings
Bring your child to learn bike etiquette and safety with our indoor riding course and get a FREE helmet (bikes will be on-site for the course)
Center yourself with gentle yoga, led by Rosie Yoga's Becca Moore
Registration
Registration Instructions:

Room:

Registration Type:

No Registration Required