Meet Our Volunteers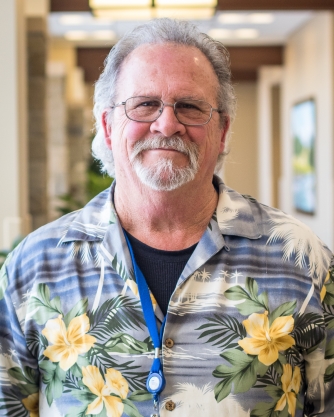 Rob Bankston
Rob Bankston holds of the distinction of being the first official volunteer in Livingston HealthCare's new building.
Rob spends Mondays and Fridays restocking the wheelchairs by the hospital's main entrance, delivering reading materials to patients, and reminding visitors to take advantage of the hand-sanitation stations. He performs his duties with a grin and a corny joke. He has a number of magic tricks up his sleeves for young patients. And he is always sporting a bright Hawaiian shirt. (He owns 74.)
When Rob isn't at Livingston HealthCare, he's volunteering just about everywhere else in town. A near-death experience in the summer of 2000 launched Rob into his present life of community service.
During an otherwise quiet evening, Rob's then teenage son found his father on the bathroom floor after dinner, unconscious and bleeding. Rob had suffered a cerebral aneurysm — a bulge or ballooning of a blood vessel until it ruptures inside the brain. The brain trauma caused Rob to temporarily lose most of his memories — he didn't even recognize his own son after his first surgery — and months of cognitive therapy ensued.
Although he was initially reluctant to reach out for any kind of help, a generous community benefit was staged nonetheless. Rob said the outpouring at the benefit provided spiritual healing and defrayed his medical expenses. Ever since, Rob's mantra has been "to give back."
"The lesson I've learned is to be a cheerful receiver," said Rob. " I have a debt to this community and mankind that I'm never going to be able to repay — so I started volunteering."
---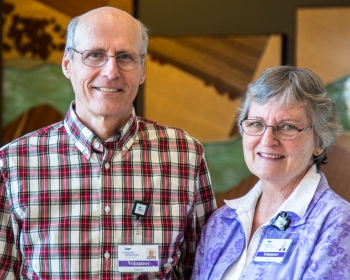 Daryl and Vicki Baumann
Daryl and Vicki Bauman have served has a volunteer couple at Livingston HealthCare since October 2017. The pair met in junior high in their home state of Wisconsin. They became high school and college sweethearts and have been happily married for over 40 years.
Their volunteerism at Livingston HealthCare is an extension of their lifelong tradition of serving others. The Bauman's worked as missionaries for two decades, living in locations as far-flung as Haiti and Senegal. Florida served as their home base for their missions to the Caribbean, where they aided the citizens of Haiti before and after the catastrophic 2010 earthquake.
The two initially came to Livingston because of family, and after they finished their missionary work, they returned to the area for retirement.
"This has really been a blessing — this small town atmosphere," Daryl said, adding they love the mountains and chilly environment.
"Florida isn't all that it's cracked up to be," Vicki quipped.
Vicki received treatment for cancer at Livingston HealthCare, and that's partly what spurred them to volunteer.
"We were so grateful and received excellent care," her husband said. "We've lived parts of the word where this type of facility isn't available."
The couple's Wednesday morning duties include greeting and directing LHC patients and visitors, giving folks a lift in a wheel chair if they need it, and mopping up slippery puddles of snowmelt tracked in through the front door.
---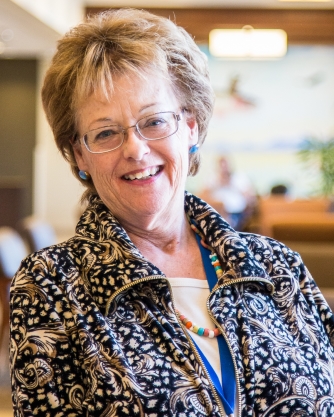 Melanie Duran
Melanie Duran has volunteered at Livingston HealthCare since January 2016.
"Giving is a part of who I am, so this felt like a nice fit," she said. "I really like it here. People go out of their way to be kind. A patient came in here and told me the other day, 'This is a really smiley place.'"
Melanie and her husband, Augie, have lived in the area for 45 years, moving to the area after he was hired on at the railroad as a machinist.
Four generations of Durans have been spotted under the Livingston HealthCare roof at one time. Melanie's son, Jody serves as the Information Systems Manager, while Jody's daughter Alyson, works in Human Resources. As of March, 2018 Jody is now a proud grandfather and Melanie a proud great-grandmother to Alyson's daughter, Halle, the newest addition to the Duran family.
Thirty years ago, Melanie worked for Livingston HealthCare's precursor medical facility, Livingston Memorial Hospital, on the night shift in admissions.
Melanie also worked as a secretary for multiple schools in the Livingston School District before returning to school herself to earn her Master's degree in counseling.
She had a private practice in town for 15 years before retiring. In her time at Livingston HealthCare, she initiated the Employee Assistance Program, which provides LHC employees with up to ten free professional counseling sessions annually.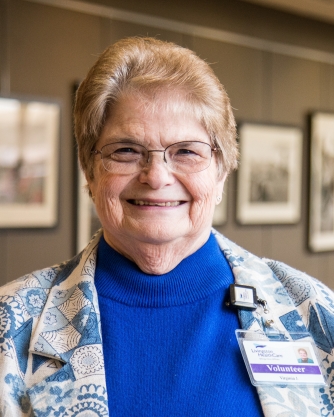 Virginia Jackobe
Virginia Jakobe is a familiar face to many around Livingston, including Helen Cassidy, who Virginia recently visited with on Livingston HealthCare's hospital floor. The pair have known each other for almost thirty years, attending church together.
Virginia was a teacher for 22 years before becoming a nurse. She worked at Livingston HealthCare's precursor, Livingston Memorial Hospital, for three decades. She's also a religious Sister of the Charity of Leavenworth, a Catholic ministry. She moved to Montana from Kansas City, Missouri in 1972.
While Virginia retired from fulltime work a few years ago, she still remains an employee of Livingston HealthCare as a patient attendant. For that job, she is on call 24/7, working with inpatients whenever she's needed.
Virginia says she truly appreciates "the friendliness of everybody and the smallness" of the area and the hospital.
She's worked the Livingston HealthCare volunteer desk since 2016. Virginia dutifully wheels the book cart up to patients every Thursday morning.
"I really enjoy being a volunteer and helping people out," she says. "And when there are no patients, it's nice to just sit here and look at the view."
When she's not at the hospital, she pursues photography and birding as her staple hobbies. (She has no fewer than six bird feeders in her yard.)
---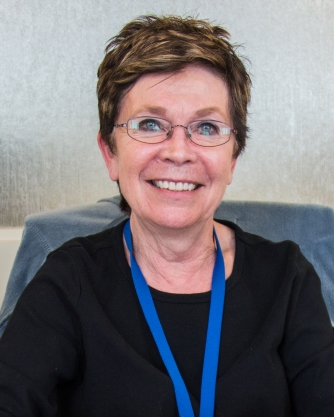 Chris Scheining
June 2018 will mark Chris Schleining's second year of volunteering at Livingston HealthCare.
Chris has called Livingston home since 1989. While she is now retired from a career of bookkeeping and accounting, she still maintains a full schedule.
When she isn't at LHC, she volunteers at her church and is an active member of the Retired Senior Volunteer Program, through which Chris helps a few aging ladies fetch their groceries and aids another with her memory care.
"I'm not ready for the rocking chair yet," she said with a laugh. "There are days when I am gone all day!"
She describes her volunteer days at LHC as a "variety pack" of activities, be it stuffing envelopes for Livingston HealthCare Foundation mailings, giving patients a hand out of their vehicles, or escorting patients and visitors about the medical center when needed.
Chris also likes to visit with patients who just need someone to talk to.
"I just stick my head in and say 'Hi!'," she said. "It's amazing what just 10 minutes with a patient does."